Enoses contribute to sustainable port development in the Port of Durban. In attendance of Prime Minister of the Netherlands Mark Rutte, a Memorandum of Understanding between the Dutch government and the Municipality of Ethekwini (Durban) was signed during the trade mission of Dutch businesses and governmental representatives in Johannesburg, South Africa.
With this MoU both governments confirm the intention to share knowledge and resources in the sustainable industrial development of the Port of Durban. Air quality in the port area is an important part in this. Enoses will contribute in creating situational awareness about the rise and spread of odorous and non-odorous emissions. In cooperation with private operators in the port area, such as Vopak Terminal Durban and Bidvest Tank Terminals, the South African government is looking for best practices to sustain economic growth without neglecting the safe and healthy living standards of employees and residents.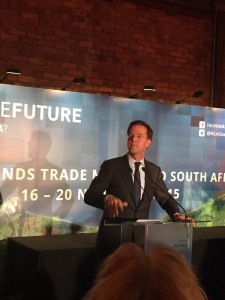 The Port of Durban is a main driving force of the flourishing South African economy. It occupies a focal point in the transport and logistics chain with 60% of all import and export passing through the port, handling over 30 million tons of cargo each year. By hosting various petrochemical companies active in handling and storage of liquid and gas bulk, the Cutler Complex at Island View has intensive 24/7 operations. Some activities, like loading petrochemical liquids and gases into storage tanks, vessels, trains and trucks may lead to accidental gas releases. Gas releases can annoy workers in the port area and residents in the nearby communities. Malodors lead to temporary nuisance. Malodors are also an environmental stressor that evokes psychological discomfort. People get concerned about their health situation. The eNose technology of Comon Invent will help to create situational awareness about the rise and spread of emissions in the industrial area in the Port of Durban.
http://southlandssun.co.za/48185/phase-one-of-increased-tank-farm-storage-lauded/