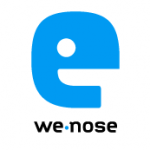 Ensuing the We-nose network expansion in 2015, the Port of Rotterdam Authority has increased the number of eNoses by another 100 locations. After commissioning this latest expansion early 2017, the dense We-nose network now comprises a total of 250 eNoses covering the complete Port of Rotterdam and surrounding Rijnmond area. The focus of the most recent expansion is twofold. Firstly, intensifying the network in the key areas of the existing network, such as the Botlek, Europoort and the main waterways in the port area. And secondly expanding the network more towards the Maasvlakte on the west side and towards the Heijplaat on the east side of the port area.
eNoses smell throughout the port area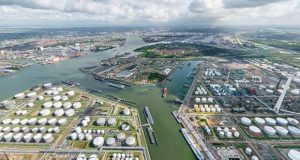 This latest expansion allows all stakeholders in the project to obtain even more detailed information about the rise and spread of (odorous) gas emission in and around the port area.
In the Port of Rotterdam an extensive range of products is handled. The production and handling activities of these products may inadvertently cause the release of gases that could possess unpleasant content. Some of these gases can even be hazardous or perceived as irritating. Not all gases are detectable by the human sense. However, an eNose is capable of reacting to all changes in the air composition, both odorous and non-odorous. Therefore, an eNose network is able to monitor the whole area and detect sudden changes in the ambient air. The We-nose network helps companies, municipalities and the Environmental Protection Agency (EPA) to act and respond more quickly to the release, presence and spread of irritating or hazardous gases. Even before gases can pose a problem to anyone in the surrounding area, stakeholders in the project can take action to prevent an undesired situation. The We-nose network makes an important contribution to a healthy, safe and attractive port and surrounding area. This is in line with the sustainable port development goals the Port of Rotterdam has set out for the future.
Why We-nose?
The Port of Rotterdam Authority, the DCMR Environmental Protection Agency Rijnmond, the Rotterdam Rijnmond Security Region, the Province of Zuid-Holland, the municipality of Rotterdam and companies located in the port consider having a healthy, secure and attractive port and surroundings important. The We-nose network makes a meaningful contribution to this mutual interest. The we-nose network is offered to companies as a service by the Port of Rotterdam Authority, in order to effectively control unpleasant odours and to identify any release of hazardous substances at an early stage.
For more info visit: https://www.portofrotterdam.com/en/the-port/safe-port/e-noses-for-a-safe-port