Author: Carla Jong
Source: http://www.greenport.com/news101/europe/when-the-only-constant-is-change
Published Date: 24-11-2015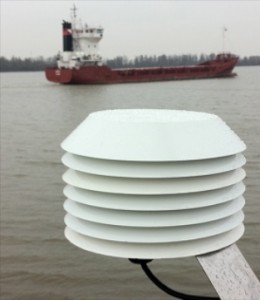 The world is changing rapidly. Developments are coming one upon the other, more rapidly than ever before. This makes the future unpredictable, but also rich in opportunities, writes Carla Jong, environmental issues project manager and Nataly Katan, new business project manager, Port of Amsterdam.
In a number of different areas, transitions, evolutions, and reversals in trends are occurring, which have an impact on the port – for example the energy transition, raw materials shortages, the rise of the circular economy, the continuing increase in scale in shipping, urbanisation and new technologies such as big data, robotics and 3D printing.
These kinds of developments have a critical impact on which raw materials will be important, the flow of logistics, which locations will come onto or fall off the radar and what knowledge will be valuable. All this adds up to a dynamic environment, in which it is difficult to predict what the nature, scope and speed of developments will be, and where exactly new opportunities will emerge. Flexibility is key.
An adaptable port
The Port of Amsterdam is, with a cargo transhipment of more than 95m tonnes per year, Western Europe's fourth largest port. The port is expected to grow to 125m tonnes in 2030. The Amsterdam port is a multi-purpose port with energy, agri-bulk, steel, general cargo, food and cruise as the main market clusters. The port region is well connected with its hinterland by rail, inland waterways and road.
The total port area in the region is 4,500 ha. There are more than 2,000 companies (Tata steel, Vopak, Cargill, Oiltanking, Nissan, Hitachi) with a total of 66,000 employees, an added value of €7bn and an annual investment of €500m.
Port of Amsterdam develops, operates and manages the Amsterdam port area, with the aim of stimulating economic activity and employment. It does this in a social responsible way and with a view to ensure swift, safe and environmentally responsible handling of shipping traffic. The port of Amsterdam is a landlord port and was corporatised in 2013, which created new opportunities for driving ahead its development. The development of a new port vision with its stakeholders called Vision 2030 came out of this development.
The aim is to develop the Port of Amsterdam into a dynamic, versatile, adaptable metropolitan "port ecosystem" by 2030. A system which is able to shift and respond flexibly to new situations, recognise opportunities early and mobile the capacity for innovation swiftly.
It is more than a transhipment centre. It is a tightly integrated hub where raw materials, cargo, residual flows, data, people and ideas all come together, where new technologies are given a chance and where there is the scope for experimentation. The forces of the port, the city and the region will be combined. The interconnectedness between different flows and industries brings with it the added benefits of economies of scale, cross-pollination and innovation.
This metropolitan port of 2030 will connect three worlds which are continually nourishing and strengthening each other. International transit and local traffic will integrate seamlessly by three functions:
International hub: This function generates the international flows of a broad range of raw materials, such as energy sources and agribulk and forms the backbone of the port. It constitutes an essential building block for the energy transition and bio based recycling activities.
Industrial hotspot: This function is about high-quality production, handling and processing in the region. Here, international flows meet with industrial cycles and logistics and industrial innovation.
Metropolitan centre<spancalibri": This function involves more finely-meshed logistics flows, waste, electricity supply, water supply and residual flows from production processes which form the basis for the circular economy on the one hand, and locally generated renewable energy on the other.
To set, and keep, the port ecosystem in motion, and encourage synergy between the functions, flows and industries, the traditional role of the port, the landlord port, will not be enough anymore.
Therefore, Port of Amsterdam has defined three roles for itself to become more adaptable:
Market Master (or Landlord): Key to the Market Master role is strengthening the core clusters and new niches in the port, offering a space for enterprise, efficient logistics, wet and dry infrastructure and to organise and ensure safety and security and the provision of nautical services within the Amsterdam port region.
Matchmaker: The keyword for the Matchmaker role is connecting – connecting innovations, people, flows and activities. Just like a spider in a web, bringing parties and initiatives together, within and beyond the port area, which will lead to innovation and value creation.
Co-creator: This is about achieving innovation. Port of Amsterdam operates as a participating catalyst to realise innovation, both within and beyond the port area. In partnership with companies, we will develop and implement innovative and sustainable technologies. By doing this, we will achieve innovations within the port region together with, and for the benefit of, the port-industrial complex.
Innovation has a crucial role in realising our Vision 2030. Four innovation themes have been identified to create breakthrough value for the port and city of Amsterdam, as well as the entire region:
Energy transition: Making the area less dependent on fossil fuels in particular with solar, wind and bio based energy initiatives.
Bio based and circular economy: Meaning attracting companies that apply the usage of alternative resources for production such as bio chemicals and bio plastics.
Logistic innovations: Focussing on sustainable fuels for transportation and development of platforms for cargo bundling for intermodal transport by short sea shipping, rail and barge.
Port Management: Using new technologies such as drones and sensors as a new information source. These extra pair of eyes, ears and noses help us to optimize our operational processes in the port.
Being ahead in sustainability
The Port of Amsterdam has great ambitions when it comes to sustainability, one being to become one of Europe's most sustainable ports. This means the port aims for an optimal balance between an economically strong port with an excellent competitive position (profit), good environmental and spatial quality (planet) and relentless attention for the social aspects inside and outside the port (people).
One of the port's main aims of Vision 2030 is to create an optimally and sustainably structured port area, characterised by intensive use of space and good accessibility. Necessary, because the port is part of a fast growing metropolitan region with urban development. The growth of the port will therefore take place in the existing area by using the space more intensively and more efficiently.
The challenge for the port and the region is to maintain a good quality of life in the vicinity of the port. That will be the license to operate for the port, so cleaner activities will be promoted and the development and application of promising innovative and sustainable initiatives will be supported.
One application of a sustainable innovative technology is a network of e-noses in the port area in order to combat odour nuisance. An e-nose is a compact measuring instrument equipped with four sensors that detect changes in the air's composition. Odour is a main issue for complaints, but with the real time information from this network, the complainers can be immediately and correctly informed about the source of the odour. The network is a cooperation of the municipalities around the port, the port companies, the environmental authority and Port of Amsterdam as match maker.
Another example of the port acting as an environmental steward shows how the Port of Amsterdam stimulates ideas of start-ups as being a co-creator with the development of Prodock.
Prodock offers a physical space in the port area for start-ups that have outgrown the lab-phase. Prodock offers more than simply a facility. It wants to enter into sustainable partnerships with its occupant.  The port of Amsterdam also invests in start-ups which will open up new sustainable markets, like a company which aims to commercialise a profitable technology for processing organic waste and agro-food residues to valuable chemicals.
To stimulate innovation, the port area is a testing ground for enterprise and experimentation involving new sustainable technologies.  This way, we ensure a competitive port, now and in the future. This is demonstrated in the scale of the investments that companies are making (private investments) and the investments made in port innovation. This strengthens the port's value as a "driver for the regional economy" and guarantees the continuity of our investment capacity.
– See more at: http://www.greenport.com/news101/europe/when-the-only-constant-is-change#sthash.p87dnBCI.0ckF0yIJ.dpuf