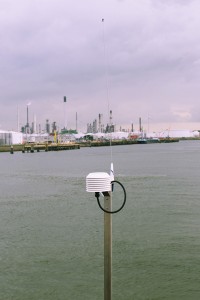 Port of Rotterdam Authority is satisfied with the operational WE-nose network in the port area and is expanding the network from 89 to 152 eNoses in 2015. These are the main conclusions that were drawn from the evaluation of the current WE-nose network. Actively involved in the WE-nose network are: Vopak, Abengoa, Municipality of Maassluis, Rotterdam Municipality, Safety Region, Deltalinqs, Province of South Holland and DCMR EPA.
An eNose is an instrument that detects changes in the air composition and wirelessly transmits this information to a central server.
The further expansion of the network suits the policy of the Port Authority to make the Port of Rotterdam the most sustainable port of its kind.
Odour Nuisance
In 2010 the DCMR EPA, in collaboration with the Province of South Holland and the Rotterdam-Rijnmond Safety Region, launched a pilot with the eNoses. This trial was completed in 2013. Subsequently, The Port Authority has taken the initiative and created a basic network of 77 sensors. The WE-nose network is offered as a service to the business community to effectively take action against odours nuisance and early detect the release of hazardous gas emissions. DCMR uses the network for monitoring ambient air quality.
This article was translated into English
Originally published in Dutch: http://www.portofrotterdam.com/nl/actueel/pers-en-nieuwsberichten/Pages/havenbedrijf-breidt-aantal-noses-uit-in-rotterdamse-haven.aspx
Date: 19 May 2015
Source: Port of Rotterdam Authority, Copyright