Darville shares PAHO and WHO Southern Districts' environmental and health risk assessment
Minister for Grand Bahama, Dr. Michael Darville, in his recent contribution to the 2016/2017 Budget Debate shared the findings of the World Health Organization (WHO) and Pan American Health Organization's  (PAHO) assessment with respect to environmental concerns associated with the industrial parks.
The groups were contracted by the government in 2014 to complete an environmental and health risk assessment in the Lewis Yard and Pinder's Point areas, with respect to the pollution concerns many residents of the area have expressed over the years.
He pointed out that the assessment noted that there are no environmental and health risk factors associated with living in the surrounding area of the industrial park.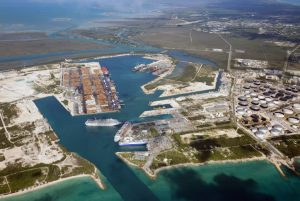 "Mr. Speaker as I would've mentioned in the midterm debate, PAHO/WHO were contracted by the government of The Bahamas to complete an Environment and Health Risk Assessment of Lewis Yard, Pinder's Point and the surrounding settlements, to determine, if any, the effects of exposure to hazardous chemicals, to the environment and health of individuals in the residential areas, which border the Freeport Industrial Park, on Grand Bahama.Read More